Too much of a good thing can really ruin something great. Take Christmas dinner for example – amazing once a year.

But every single day? The prep alone would have you calling it quits after a week. You'd never want to see a sprout again. The same thing goes for travel PR coverage (although with fewer sprouts).

A story and a link to your website, in one of the most prestigious daily newspapers or travel magazines is worthy of a big celebration – and when we land a piece in The Times, Condé Nast Traveller, National Geographic or the Guardian for our clients, we definitely celebrate it! Besides creating brand awareness it gives our clients a great high-domain authority link. (For those of you who are new to digital travel PR high domain authority links from websites such as national newspapers are a hugely important SEO metric as they tell Google to trust your website and you come up higher in the search rankings).
But landing coverage for your travel brand in the same publication ten times over in a year isn't as good as you may think. It can actually be damaging to your travel PR strategy and it is certainly damaging to your travel SEO strategy.
How so, you ask?

Because Google doesn't just judge your website on the domain authority of your PR coverage (in SEO speak "link domain authority"), but also on the variety of those backlinks. (And a bunch of other metrics, if you really want to go into detail).

Here's a practical example

You run an adventure tour operator. Or a wellness hotel. Or a travel start up.

Being featured 10 times in The Times with your hotel or adventure tour operator might be great to raise brand awareness amongst the same client pool i.e. Times readers, but it does little for those potential customers who are interested in that kind of holiday, but haven't read the Times article. They might not have heard about your brand, but they would be interested in that kind of holiday. So what do they do? They google "Best adventure tour operators" or "good wellness hotels in Europe". Would you want to come up tops in that search result? I bet you would!

But will you come up in that search if you've been 10 times in the same publication? Chances are, you will not. In this case Google will give that point to your competitor who's made sure they have a link from the Times AND a varied backlink profile.

So how do you create a varied, relevant and high domain authority backlink profile? Let's explain how PR has changed, the rise of digital PR and the importance of links for SEO.

A-list titles and hyper-relevant outlets should still be a focus for your travel PR. But so should generalist publications – even the ones that, at first, seem to be "off-brand". Plus, the right story in general news and online media sites will naturally trickle down and get picked up by outlets in your niche.
How to get new travel customers with PR: the inverted pyramid
Before we get into the specifics of PR and how it's evolving, it's important to reflect on what's never going to change in marketing – the inverted pyramid.

This is one of those concepts that's so elemental and basic; but somehow, it always gets forgotten as soon as a glitzy new marketing tactic or social media platform comes along. Think of it as a funnel of sorts, one that narrows to a finely-tuned target (AKA the people you want to reach).

When we talk about capturing audiences with PR, our inverted pyramid model looks like this: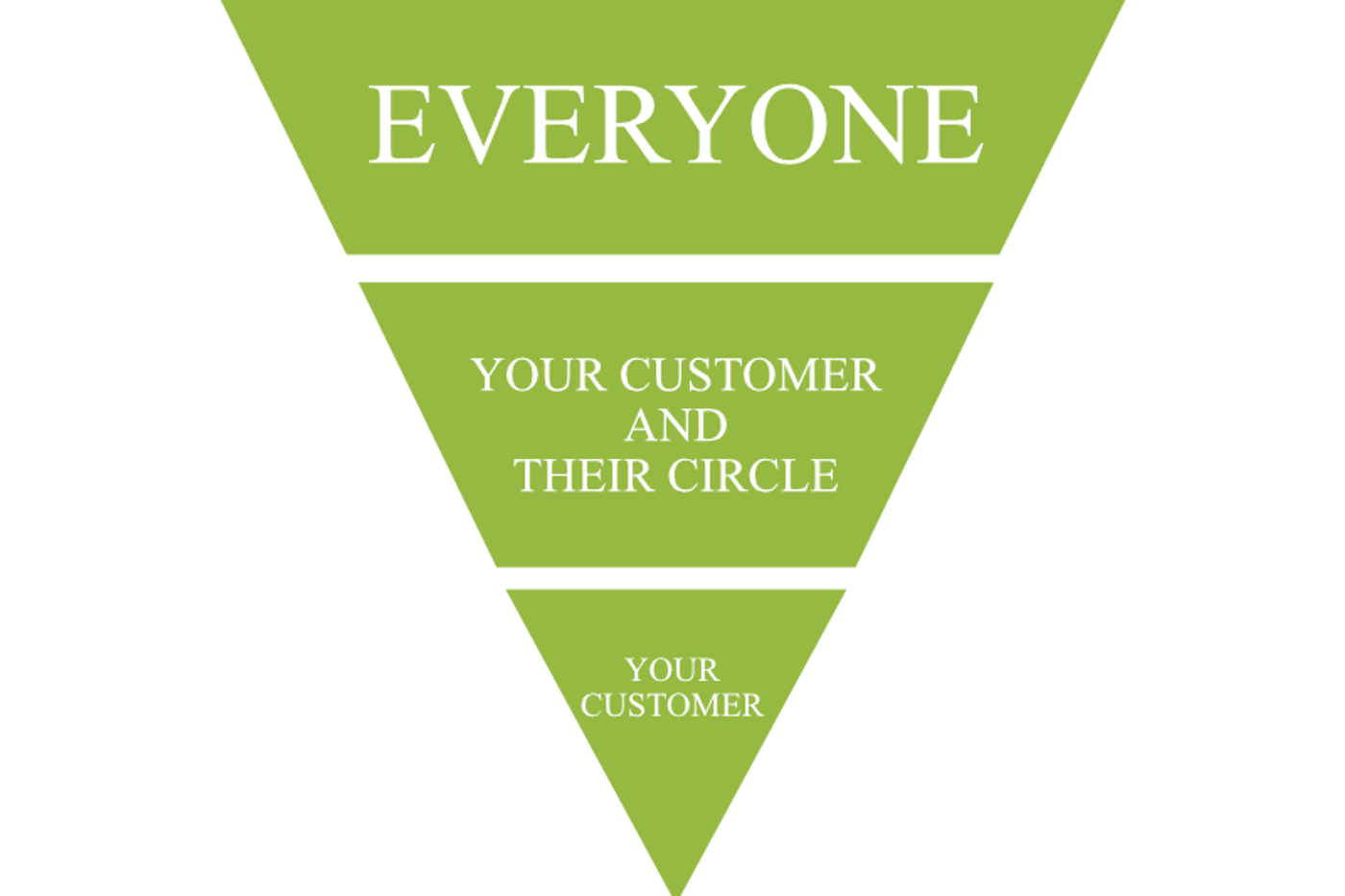 For travel PR to really work both from an awareness point of view and an SEO point of view, you need to get coverage and links in publications that don't just talk to the tiny final audience you want to target. For example, even if you are a luxury travel brand – don't just talk to luxury titles. Go wider! It helps with link variety AND domain authority.

But equally it shouldn't talk to everyone, either – that would just be a spray and pray approach (which Google penalises as there is little "relevancy", another key SEO metric). It needs to be aimed at the middle segment, AKA 'your customer and their circle'. It needs to target not just your customers, but those who influence your customers.

In other words, content made for your target audience will only appeal to your target audience. You'll never grow if you keep doing the same thing. So think bigger – think about their circle of influence; friends, family, brand affiliations, and their wider interests beyond travel.
You need to go where the audience is
Now you know that the audience isn't just your customer – but the people who influence them; a best friend, a colleague or family member who sees the coverage – you need to go where they are, not the same places you've already targeted.

So not just The Times again, but consider digital news outlets like Yahoo and MSN who have enormous readerships and an incredibly high domain authority (MSN is ranked #2 globally in news and media). Or let's take the case of a family hotel group we are working with. We were able to show them that their clients are voracious readers of local publications in the affluent neighbourhoods in which they are living – let's target those as it's great for link variety. We also noticed they hang out an awful lot on parenting advice sites. So, let's get our hotel group on those parenting advice sites. These are not travel titles, but they are still hugely relevant and hugely important from an SEO point of view and are essential if we are to target those audiences.

(If you want to find out how we are able to see which publications are read by your customers you may want to invest in data driven audience insights).

So by all means target the travel sections of newspapers like The Times and Guardian, but also target general interest digital magazines outside of travel. Making an impact in these spaces will indirectly lead you to your target customer and will also grow your reach and your customer-base to new heights.

And the juiciest benefit? Better SEO.
How travel PR has changed: the rise of digital PR and SEO
We live in a digital-first world. Broadcasting has given way to streaming, billboards have been surpassed by social media ads, print coverage is less valuable than online coverage – more and more of what we see and do, especially since Covid, happens on a screen.

That includes travel PR. While traditional travel PR agencies would focus on the same publications over and over, digital PR agencies will also take the SEO impact of what they are doing into account. Neither approach in isolation is ideal – there are upsides and downsides to each approach. You need to know when traditional PR tactics are better than digital PR tactics and vice versa – and some travel PRs are further ahead than others.
So what is Digital PR and how does it impact SEO?
You see, backlinks make Google take notice of a website. Links to your website from trustworthy or well-known websites are a sign that your web pages are worthy of showing in search results. So, more good links means better search visibility for what you do,

Following Google's updates in 2019, digital PR is now the most effective and only legitimate way to build the right types of links.
Digital PR (DPR) is used to secure high authority backlinks that will positively affect SEO rankings. With DPR, we encourage earned online coverage and links from authoritative websites to a client's website, to build SEO value.

This is done by creating media-friendly, high-impact stories that have related content on our client's website that can be linked to.

Digital PR works best when new links are acquired, from a diverse but relevant bunch of websites – not just The Times over and over again!
Why it's so important to diversify your Travel PR
Let's break it down. By diversifying the outlets you make content for and pitch to, you gain so much more than you ever could by landing coverage in the same newspaper ten times over:
New audiences, and a wider funnel to catch more people. If your brand makes a big, memorable impact that commands attention in the media, where everyone can see it, you'll gain a bigger pool of potential customers (and those who influence them) – it's as simple as that.
2. A diverse, natural and powerful backlink profile
If you're new to SEO for travel brands , we'll keep it simple – getting links to your website from influential media websites is a huge win. Backlinks, as they're called, should be as diverse as possible and gained naturally through compelling, persuasive content.

With coverage in multiple, high-impact digital news outlets, not only will you have a bigger audience, you'll have a bigger, stronger backlink profile for your website. That means better search engine visibility to the customers who are looking for exactly what you do.

The most powerful types of links include topical links.
3. A trickle-down effect into topical, highly relevant websites
Impact in wider media can lead to trickle-down coverage into niche websites, more closely related to what you do. In fact, we see it quite often.

Niche publications will be more interested in smaller details, and will have less impact than general news media: but they provide specific audiences with content they want, and give you even more of those valuable backlinks.

Links from specific niches – for example, from a cycling publication that covers a piece on cycling holidays – would be considered topical, and therefore very valuable.

But to get here, you first need that IMPACT – that mass appeal. And that's where a digital-first, specialist travel marketing agency (like us!) can help.
Travel PR for brands that want to grow
Lemongrass Marketing is a specialist travel PR agency. We put hotels, tour operators and travel startups in front of new high-value audiences – with revolutionary travel PR techniques, designed for the digital age.

Let's start a project – call +44 (0)1865 237 990 or email abi@lemongrassmarketing.com.