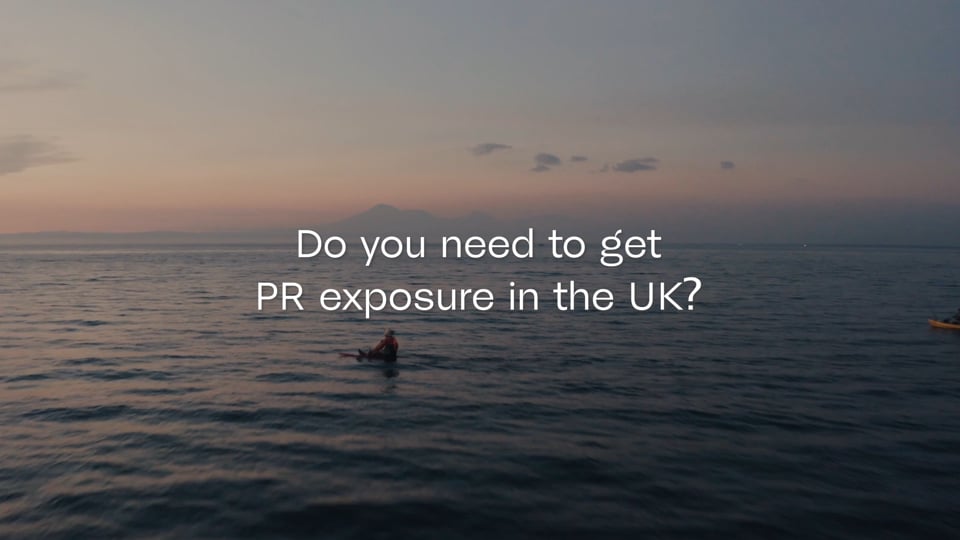 Every year in autumn we hold one of travel PR's top events. Sitting at the top of the "to-attend" list for many in the media, it's our chance to introduce our clients and potential clients to our exhaustive list of industry press contacts.

This year we're doing things a little differently, drawing on the success of our sell-out annual media day, we're launching a media roadshow specifically for brands who are making the right steps towards a positive shared future.

So, from October 9th – 13th 2023, we'll be packing our bags and leaving the London media bubble. Hitting the road to drive meaningful connections between forward-thinking travel brands and media across the country on our first Travel with Purpose Roadshow.

Get started
Simply fill out the form to kickstart your journey. We'll provide you with all the essential information and collaborate on crafting compelling stories.
Future-proofing your brand
It's an opportunity for travel brands to future-proof their PR for the coming year: to be seen by the right media, to secure press trips, and to get on the radar for upcoming features.

During the week, we'll pitch your brand to our network. The Lemongrass team will be travelling all over the UK and Ireland to meet with journalists, quality influencers, podcasters, and TV and radio producers, pitching the very best of travel brands that have sustainability, the environment and people at the heart of what they do.
Create impact among the right audiences and get your travel brand in front of the best travel media in the UK and Ireland. We amplify your story to our network of A-list journalists, travel podcasters, influencers, creators and TV producers.
Taking part in 6 locations across the UK with no time investment needed from you. All you need to do is provide us with inside knowledge of your brand. If you're a long-standing client then we will have an intimate understanding of this already, but if you're a new or potential client, we'll work with you to gather what we need.
Designed specifically for the unique needs of small, conscious travel brands looking to get exposure in the UK market. You don't have to be a perfect sustainable brand to participate – we understand the road to making your business more sustainable can be a daunting one, with unique challenges on the way, which is why we're on hand to help guide you on this journey.
We welcome everyone who is making steps towards meaningful change, whether that's by implementing a zero-waste food policy, or involvement in community projects.

Immersion workshop
First, we'll book in a one-hour virtual brand immersion workshop, to uncover what your brand stands for and who your target audience is. We'll work through your USPs and tease out the stories that we know the media will be interested in. Then, from files and materials that you provide, we'll create a media library that we'll share with the journalists.

Interactive story book
After this, we'll create an interactive brand story book. This will include story angles that we know the media is interested in, such as sustainability, design, active, family, outdoor, food or wellness.



We meet with media on your behalf
During the week, we'll travel to meet with the media on your behalf. We'll pitch you to top-tier newspaper and magazine editors, up-and-coming writers, television production companies, podcasters and quality influencers to secure press trips and coverage opportunities.
Saving you time and money
Because we'll be representing you, this is where you sit back and let us lead. We arrange it this way because – as well as saving you valuable time and travel – it's how the press prefer it. Journalists like to make the most of their time by covering dozens of topics in a half-hour conversation. The best way for us to pitch your brand is to meet with each, so that we can find out what they're interested in and tailor the information we share.

Measuring success
Following the event, we'll pass send you on a full report including details of who we spoke to, any press trip opportunities, and the specific interest we've secured. 
We'll follow up personally with every journalist contact we visited met with, and include your brand and information. If any of our contacts would like to arrange a media visit, we'll make personal introductions to you. 
We'll also produce a trend report so that you can plan media-friendly packages and pitches for the year. If you're worried about your team's capacity to capitalise on these opportunities, then fear not. Speak to our team about support for your ongoing PR efforts, or a bespoke project designed to kickstart your UK media exposure.
What's required to participate?
You'll join a one-hour virtual brand immersion workshop to discover your brand's essence, identify your target audience, highlight your unique selling points, and uncover captivating stories that will pique the media's interest. We'll also create an interactive brand story book with media-friendly angles.
Do you need to be present on the day?
No, you don't have to be there. Journalists have limited time and cover a wide range of topics in just 30 minutes. To pitch your brand effectively, we meet individually with each journalist, tailor the information to their interests, and discuss multiple clients in one session. Our experienced PR team ensures the process is efficient and cost-effective, saving you travel expenses.
What results can you expect?
You'll receive a comprehensive post-event report detailing the media contacts we engaged, potential press trips, and specific interests secured for 2023. We'll personally follow up with attending journalists, including your brand and information. For those interested in arranging a media visit, we'll introduce them to you. Additionally, you'll receive a trend report to help you plan your 2023/2024 packages and pitches that will resonate with the media.
What if you don't have any news?
No worries! You don't have to be new or reopening to grab the media's attention. Our PR team excels at finding newsworthy angles even when you think there's none. Leveraging our expertise, media knowledge, and data from sources like Google Trends, we'll create compelling stories for you. We won't burden you with generating new packages!
What happens at the roadshow?
During the roadshow, we'll go the extra mile to ensure that your brand receives personalized attention. Our experienced PR team will personally meet with over 60 media professionals, dedicating focused time to pitch your brand and discuss its unique aspects. By engaging in individual conversations, we can truly understand each journalist's interests and tailor the information we share accordingly. This personalized approach allows us to establish stronger connections and maximize the impact of your brand's message.
What is our commitment to sustainability during the roadshow?
We are committed to environmental sustainability throughout the roadshow. We have partnered with a carbon advisor to ensure that the event remains carbon neutral. From selecting sustainable venues to implementing eco-friendly practices, we take every step possible to minimize our carbon footprint. By organizing the roadshow with sustainability in mind, we aim to align your brand with the values of environmental responsibility.
Are you a journalist?
If you're a journalist we'd love to pitch to you - fill in the form to tell us where you're located.