Digital travel PR is exploding and fast becoming one of the most in-demand marketing channels. As an industry very few people are able to do it – which is why at Lemongrass we've resorted to training traditional PRs in the art of digital PR, so our clients are able to tap into the best of both worlds and get a holistic, more integrated approach to PR.

The meteoric rise of Digital PR comes as no shock. With digital PR, travel brands can dominate search results in Google, and drive the conversation in the media with their campaign. It's a massive win when you get it right – but getting it right takes a lot of work.

But what is digital PR? How can travel brands use it – and why? Find out in this post, with some practical, actionable tips to take away.
WAIT! Before we start, let's tell you what digital PR is NOT
Digital PR is not:

- Pitching to online newspapers and magazines (that's all part an parcel of our traditional PR offering)
- Influencer marketing
- Newsletters
- Social media

If so-called experts keep explaining that digital PR is just traditional PR done via email, websites, and online publications – feel free to tell them:


Because that's NOT what digital PR is. Of course, digital PR uses these channels, but in a different way – and with a different intent than gaining coverage alone.

Digital PR aims to build links to websites, because links are important for SEO. But it's so much more than link building. And it's so much more than just PR…

Sounds complicated, huh?

Let's try to break it down a little bit further, by looking at the two disciplines that come together to make digital PR work: PR and SEO.
How traditional PRs look at brands
SEOs look at brands differently.

SEOs are less concerned with how famous a brand is, and far more concerned with its findability.

So let's say you are an adventure tour operator like Pura Aventura or Intrepid. Not everyone might know that brand name. But there will be plenty of prospective clients who might google "trekking holidays in Spain" or "best eco friendly adventure tour operators". Why? Because they are interested in that kind of holiday. And if you were Pura Aventura or Intrepid would you want to be found for those searches? I bet you would.

So, where a PR would want to get the brand's name out into the public, the SEO would want the brand to be found for what they offer; which is ultimately what the user making a Google search wants.

Basically, PR makes you famous, and SEO makes you findable. Both SEO and PR are excellent strategies for travel brands – but not necessarily in isolation. What good is fame if nobody can find you for what you do? And what good is being found if nobody trusts your brand name?

This is where digital PR shines, by bridging the gap between PR and SEO.
Digital PR sits at the intersection between traditional PR and SEO.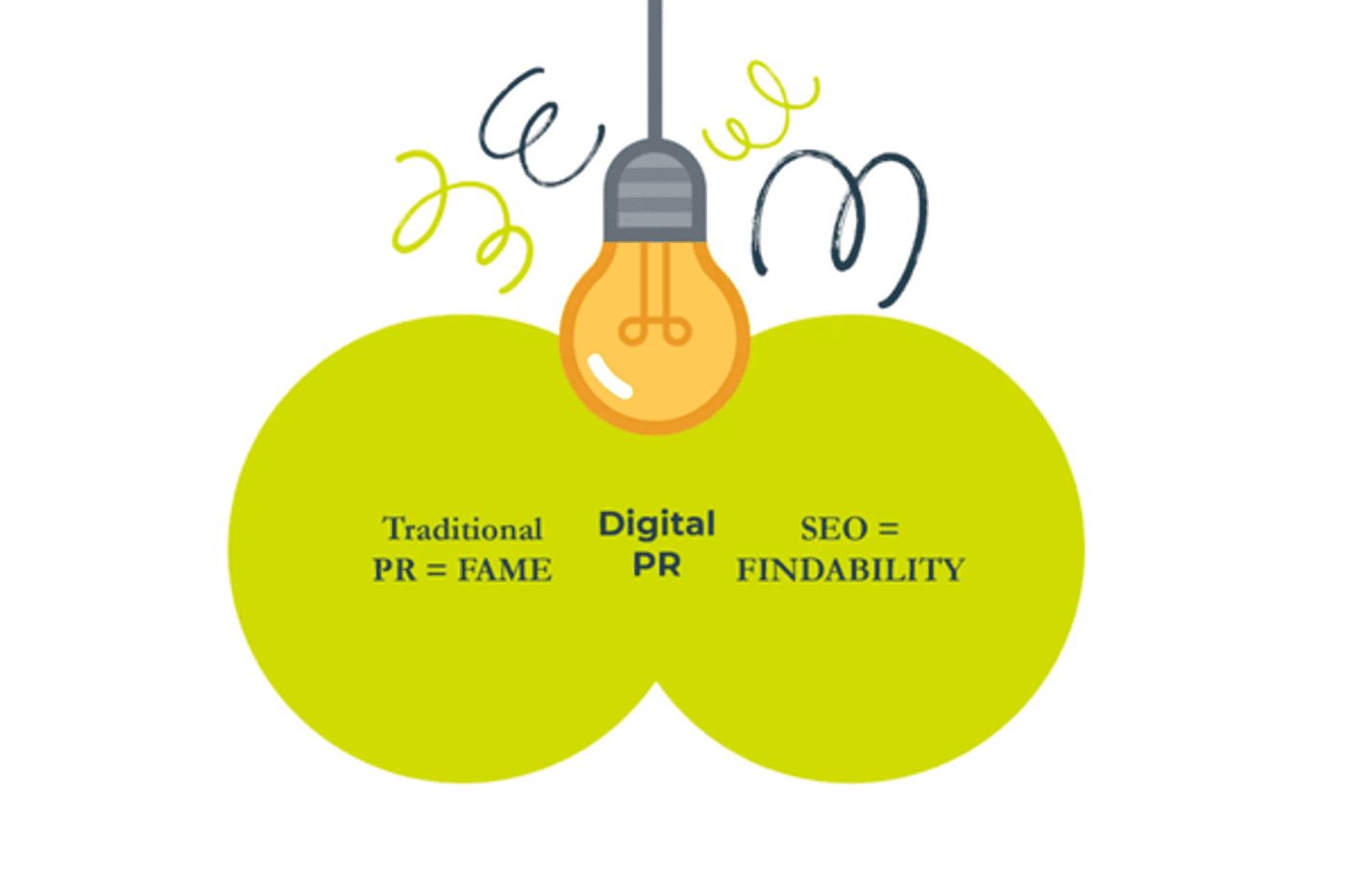 It delivers an SEO-boosting influx of links to a brand's website, while making the conversation all about them. And make no mistake; this isn't a diluted version of PR, sitting alone and out of context on a website. It's strategically placed, for maximum impact. And some digital PR campaigns have become part of popular culture, spilling out into social media, into pubs and living rooms – where they drive conversation and debate.

In short, digital PR is where fame and findability are achieved at the same time.
Why do travel brands need digital PR?
Because as well as achieving traditional PR KPIs like putting your brand name in key publications that are relevant to your audience, digital PR also ensures you get found by Google. Or in other words: Digital PR links in publications like the Times, Wanderlust or Conde Nast Traveller give subtle hints to Google that say "hey brand Pura Aventura is clearly synonymous with sustainable holidays to Spain. Mr/Mrs Google: next time someone googles sustainable holidays to Spain, make sure you bring up Pura Aventura in the search".

For example – if you offer adventure holidays, and a potential customer Googles some variant of the term "adventure holidays", you can become one of the higher ranking websites in what Google returns.

This is because with digital PR, you get:

- Relevant content
- Links to the content, backing it up with trust
- Structured, internal links from your trusted content to your offering
And this is extremely important for SEO, because of how users research and find their next trip.

Sticking with the adventure holidays theme, someone looking for what you offer is not going to begin their research by Googling your brand name (sorry, folks).

They're mostly not even googling destinations, or territories – let alone hotels or tour operators!

Instead, they'll be vaguely Googling ideas, seeking out information. They'll be looking for things like "best adventure holidays for [insert interest such as families or foodies]", or "adventure holidays in [month]" – or some other non-specific, fact-finding search request.

And those preliminary search results might kick up results like this: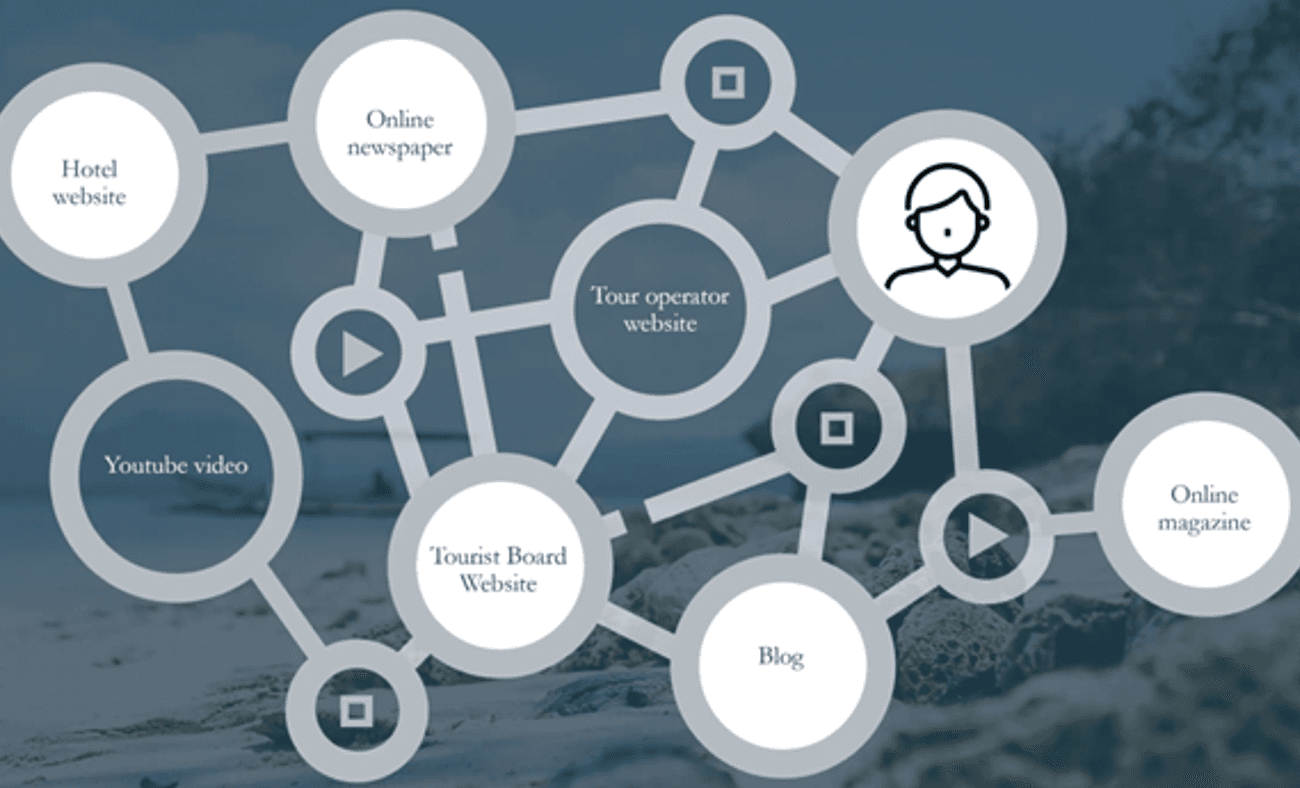 Blog posts, videos, newspaper articles and magazine roundups, influencer profiles… And of course, ads.
It's a complex landscape to navigate, but users are becoming wiser to advertising, with most still choosing to trust organic results (organic results mean results from PR, SEO and Content for those of you who are new to this – as opposed to results from Google Ads).
So what does PR have to do with Google?
The landscape of Google and other search engines used to be dominated by SEOs. But today, it's digital PR and content marketing that lead the way; the creative, user-serving disciplines, guiding users to the best result for their query – not the hyper-optimised, tech-first SEO approach.

But it's ultimately Google that decides what content is served, and it uses the EAT model to determine this.
"EAT? But I'm not hungry!"
Okay, that wasn't our best gag… But EAT is no joke. It stands for Expertise, Authority, and Trust – and it's how Google ranks web pages, including yours.

Let's explain what we mean by Expertise, Authority, and Trust, and why Google seeks it out.

Expertise – the topic areas you have a right to talk about and be involved in. For instance; you're a hotel in France, serve good food, have a great spa and people love to go on honeymoon in that hotel. That means you have every right to comment about topics related to food, wellness, hospitality, France, your home city, or about weddings, hospitality – and the travel market as a whole. You can talk about the things your guests value, or even the things they hate. Expertise, then, is your wheelhouse; your general area of knowledge, where you have specific experience and unique perspectives.

Authority – you may have expertise, but have you documented it? This is where the content of your website, your blog comes into play. The content you have on your website and on your blog proves your expertise to Google, and gives you authority. In essence, it backs up what you know and puts it on display – for scrutiny, comment, agreement, or otherwise. Without the content to back your expertise up, nobody will know that you're an expert. And Google knows this, so it can only reward experts if they have the content to back their credibility up. And content by the way doesn't mean you have one page that talks about spa, one page that talks about food, one page that talks about honeymoons. Google wants to see that content updated regularly. And to judge if that content is relevant and has authority Google uses indicators such as bounce rate and dwell time (i.e. if people come on your website and immediate bounce off or exit then chances are your content isn't very good). Hence the need for a regular content audit.

Trust – okay, so now you've got a bunch of content on your area of expertise. You've got a good blog going on your website. But wow can your word be trusted? Google has long sought to resolve this conundrum by using links. Today, content with a lot of links is a sign that it's a valuable source of information. For instance; when multiple newspaper articles link back to your website, it's an indicator that your website is credible. Your hotel becomes a trusted resource on the topics of wellness, honeymoons France and son on. And guess what: when someone Googles "best wellness hotels in France" you come up.

But don't cheat! Shortcuts never pay off

EAT does not run in isolation, though. Google's algorithm is incredibly complex, and can sniff out fake links, spammy content, and manipulation remarkably well. And wherever the algorithm flags serious foul play, manual checks are made – often with penalties that render a website unfindable. So if an agency comes to you and says "pay £1,000 for 10 links" don't fall for it. Don't ever pay for links, don't stuff keywords into your website, and have a healthy does of scepticism for guest blogging in order to obtain links – Google is cleverer than that.

Anyway – this holy trinity of Expertise, Authority, and Trust is what makes the PR & SEO world go around. And while you may have amazing content, all on your area of expertise, the links part can often be hard to do legitimately.

And all links are not equal. A link from your friend's sparse, neglected blog, with a readership of 12, will not have the same clout and punch that a link from a national newspaper or magazine will. In fact, the blog link in question probably won't even move the needle.

How do brands get links, then? This is where digital PR comes in.
How to get high quality links with digital PR in publications like Wanderlust, the Financial Times, Conde Nast Traveller
First, and fundamentally – you need a good story (the remit of a goodPR). Then, you need to make that story work for Google (the remit of the SEO).

This is why SEO and PR teams need to work together for success. SEOs know how to work with Google, but aren't always the best storytellers. PRs are natural storytellers, but don't always have the technical knowledge of SEOs.

Read more – Why your SEO strategy should ALWAYS include your PR team
In tandem, they're a dream team for Digital PR.

Before we dive into how to get links with digital PR, bear these two points in mind. You must always:

1. Craft a GREAT story that journalists WANT to link to
2. Create an asset on your website, and get links where YOU WANT them to go

A great story… that's the hard bit. But great PR stories have three things in common;

1. They are relevant to now
2. They would spark a conversation down the pub
3. They elicit an emotional response

Ideally, you'll have all three. It's really hard to get all three. But when you do, the results can be magic.

But in reality, you're probably going to get one or two of these boxes checked, especially in trade PR. And if you could only have one – choose relevance above all else.
Want to see how it works in action? Make friends with Google Trends
If you want to start out in digital PR, learn how to use Google Trends. Google Trends can help you find newsworthy topics that are relevant to now.

During the early stages of the covid pandemic, our client, Lanserhof,had a PR plan focused on weight loss content. But users were so much more interested in immunity than weight loss at the time – and Google Trends was proving the point for us. So we pivoted the strategy…
Instead of focusing on Lanserhof's weight loss therapies, we branched into their immune-boosting treatments – and eventually into their treatments for long covid.

By being relevant to what users were demanding in the here and now, Lanserhof gained coverage in flagship publications like Financial Times and Tatler, with ongoing mentions throughout the year. And because their blog had so much expert content, it only took a tweak to build up the authority and trust of incoming links – with a dedicated long covid resource.

For another client, Hotel Santa Caterina on the Amalfi Coast, we noticed something interesting in the spring of 2021: Google Trends showed a 770% increase in UK searches for Amalfi Coast (despite the country being on the red list for travel at that point).

Using nothing but Google Trends data – free to anyone – as the hook, we were able to attach Hotel Santa Caterina onto the story as a wishlist destination in outlets like CN Traveller and Luxurious Magazine.

Google Trends isn't the only free data source. Statista, Spotify, YouGov, Instagram – even Amazon – all have fire hoses of data that you can focus into your own particular needs.

We've used Instagram data to get clients, with no news whatsoever, into national and international news.
If you want to learn more about how to generate news when you haven't got anything groundbreakingly new to talk about at your travel brand check out this article "My PR agency always asks me for news, but we don't have any!"
Three things you should STOP doing and three things you should START doing
And now – let's get practical. Here are three things you should STOP doing, and three to START doing to get better results with digital PR for travel.

1. Stop relying on traditional PR only – start think about how you can combine traditional and digital PR. We've come from a traditional travel PR background so pitching our travel clients into national newspapers and magazines is bread and butter to us. A few years ago we introduced digital PR – and thought traditional PR is old hat. But we quickly learnt that digital PR has shortcomings, too – so we now combine the best of both worlds. If a client needs to raise the profile of their CEO we'd use traditional PR strategies. If, however, they want to raise their profile as a great tour operator for say family travel we'd design a digital PR campaign specifically to generate links and coverage in family travel publications and websites.
2. Stop focusing on getting in The Times, ten times. Start diversifying your backlinks into more relevant, focused link sources. This will help you become more trusted for the niche you operate in, and improve your SEO and EAT. This is a notorious problem we see with clients who have only ever worked with a traditional PR agency.
3. Stop putting all your eggs into the technical SEO basket. There's only so much a website can be refined for performance, and ultimately, the content will dictate its usefulness. Start recognising that digital PR is just as important as technical SEO, and invest in the area that will give you the greatest impact.
A specialist digital PR agency for travel brands
Lemongrass Marketing is a specialist traditional PR, Digital PR and content marketing agency. We can help you work out the best strategy for your travel brand – whether that is 80% focused on traditional PR, and 20% digital PR or vice versa. We're a friendly, approachable team that works alongside you to achieve the best results for your travel brand.

Want to know more? Call +44 (0)1865 237 990 or send an email to abi@lemongrassmarketing.com.