Just like pro athletes, most CEOs and marketing directors know exactly who their competitors are.

They'll measure themselves against the performance of the names they know best.

For instance – the Seychelles Tourist Board would probably name Mauritius and Maldives as their competition. They might include some of the Caribbean Tourist Boards, too. The Tourist Board of Hamburg would name other cities like Berlin or Munich.

A brand like Wilderness Safaris would probably pick out Singita or andBeyond. Relais & Chateaux might name SLH, Leading Hotels, maybe Preferred as their competitor brands.

And they're right, these absolutely are their competitors at a brand level. The problem is, they're only half right. Actually, they're not even close to getting the full picture.

Because all brands have two sets of competitors. We call them "brand competitors" (the ones every CEO knows about) and "search competitors" (the ones that usually get forgotten, but are arguably equally if not more important).

What are "Search competitors" and why are they important?

At its most simplistic (and we are breaking things down to basics here) search competitors are the results that Google throws up when your guests or potential visitors to your destination google "eco lodge Sri Lanka" or "city hotels Germany" or "camping holidays France". What comes up in the search results is what Google, not you nor your CEO, determines as your competition. It's based on a complex set of algorithms. And no, it isn't exclusively the job of the SEO to make sure you come out tops – it's the PRs and Digital PRs that massively influence the search competitor game in 2021 and beyond. We'll show you how!

So why is it so important to always have that second set of competitors in mind when planning your PR, social, content and marketing strategy?

Because 92% of all searches start on Google. Including travel.

Travel brands need to get into these search results – to stand out from the competition in Google's eyes.

How do we do that?
How do we find out who Google sees as competition?
Our first step is to search in Google for what we broadly offer – like "camping holidays France", "cycling holidays" or "wellness retreats".

The organic results (and to some extent, the ads) will be personalised and localised to you – and you might be confused to see that neither you, nor the competitors you expected to see, are anywhere to be found. This could mean that Google doesn't think your offering matches the query well enough, or that the websites it lists are stronger candidates for the result than yours.

Why is that?

To find out more, you'll need to use some tools – like SEMRush and other backlink analysis tools. We use them all the time to work out Digital PR strategies for our clients.

SEMRush is a research tool for SEO. It provides keyword ranking and traffic data, and insights into your search engine competitors – as well as your brand competitors. But it is also a PR tool (but most traditional PRs don't know that).

With access to Google's key APIs, SEMRush tries to closely model Google to find out which websites it considers to be your competitors. Enter your website's domain and navigate to the Main Organic Competitors section – and you'll get a list of websites that compete with yours in Google.

It does this by analysing all the keywords targeted by each domain, and the number of common keywords. The more keywords you share with other websites, the higher the competition.

And there they are – your search competitors, the ones that (until now) were unknown to you.

So, how are they all outranking and outdoing you in search, even though you have the same keywords?

And how can you outsmart your competitors?
The keywords here are: Trust, authority – and backlinks.
We've covered the importance of backlinks for travel PR, and we really can't overstate how important a good backlink profile is to your search engine visibility in 2021 and going into 2022.
Backlinks are a sign of trust and authority of a website. They're one of the most important signals that Google uses to measure a website's credibility for a search term, and how it decides where to rank it. The more links a website has from other reputable, relevant sources – the more trustworthy Google will find it.

In travel we all know Tripadvisor – so a good backlink profile is a bit like having lots of good reviews on Tripadvisor or Trustpilot. A good backlink profile is like being given lots of brownie points by Google to your website. And lots of brownie points from Google means you are able to stand out from your competitors.

So how can Travel PR help give you a better backlink profile than your competitors?
For that, it's important to firstly understand what makes a good backlink profile.

Once upon a time, you'd build links manually, by paying for automated link building, guest posting or by churning out random content, hosted on random websites.

And it worked. Until Google clamped down hard on manipulative link building practices in 2012 with an algorithm update: the now infamous Penguin update. And fair enough – this kind of link building violated their terms and made the web a horrible place.
But we're long past that now.

Link building has matured into a new practice. And Google itself now ranks link building and digital PR as more important than technical SEO to influence rankings.

So what are the key ingredients of a good backlink profile:

When we look at the backlink profile of a client and compare it to their competitors we create an impact score based on four parameters. This then allows us to pinpoint exactly which area or two we need to focus on to outsmart the competition. The four parameters of a good backlink profile are:
How good is the quality (read: domain authority) of the websites that link to our client versus their competitors. If our client has poor quality inbound links (read: PR coverage including a follow link) the competitor ranks better. High quality links into our client's website on the other hand show Google that our client's website is authoritative enough to be linked to (read: brownie points from Google).
A strong backlink profile requires a volume of authoritative and relevant links, from varied and relevant referring domains, directing equity to your website. So, in terms of quantity of digital PR links – do we have enough or do we need to up the volume for the client?
3. Variety – the biggest issue usually with travel brands!
We need links from a variety of sources. We need to increase the number of referring domains (websites) and diversify the backlink profile. This is hugely important and one thing we have observed across a lot of travel brands is that their link variety tends to be poor. In particular if they have only worked with traditional PRs, who never look at backlink profiles. So, most of clients that come to us have lots of links from the same publications and in travel verticals. That's not good enough. We need to develop digital PR strategies to increase the variety of verticals outside of travel.

An example. One of our clients is the Leipzig Tourist Board. They wanted to be known as the city of music travel. So we needed to make sure we didn't just get coverage and links in the travel pages – but crucially on music websites, too. Here's how we did it – and we've won lots of praise for it, too: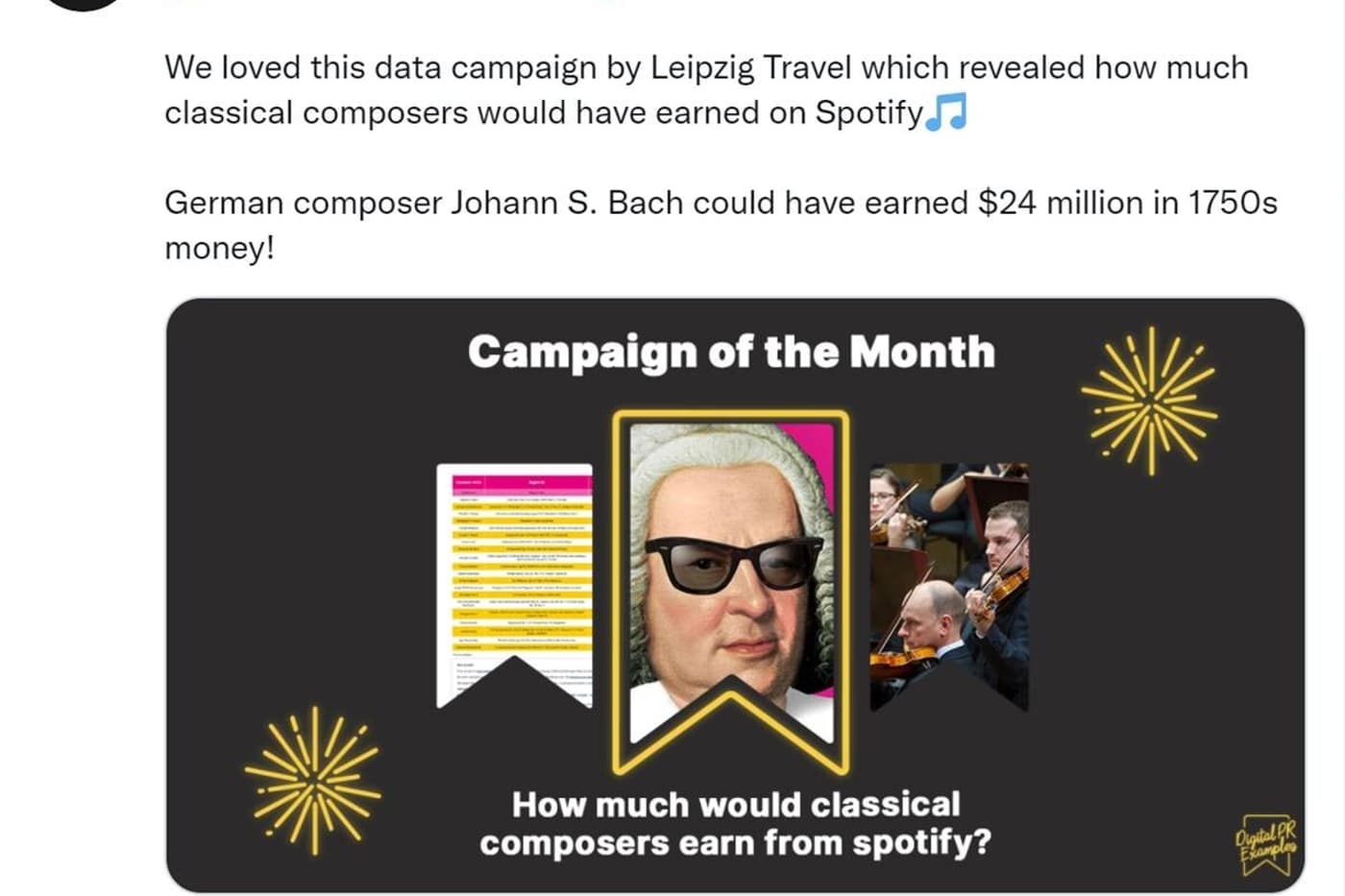 Finally, links should be from relevant sources, in a space that the brand has a right to be talking in, or that interests their audience. This is what traditional PRs usually excel in and where Digital PRs fall down. Which is why we combine digital PR for travel with traditional PR for travel for all of our clients.

Now what?

Once you've done all of the above you might well feel like your competitors have got a stranglehold on search. One that you couldn't possibly overcome.
Sometimes, the travel brands we work with have even deeper problems (like cannibalisation i.e. competing with yourself and trust us we've seen this problem so many times with travel brands, in particular with hotel groups) – as well as technical SEO issues and problems with content.

But most of the time, it's backlinks – or rather, the lack of a well-rounded, high quality, relevant and varied backlink profile compared to competitors.

Now to the good news!

Having done all of the above and having analysed our client's backlink profile we know exactly where to focus our efforts with our PR outreach.

So, depending on whether the focus is on increasing the variety, relevancy, quantity or quality of backlinks – or a combination of all four – we provide a really clear strategy for our clients that helps them stand out from the competition.

And you can, too – in a way that all of your competitors will envy massively.

We achieve this with a combination of the best of traditional AND Digital PR: where traditional PR and digital marketing merge, with incredible results.

Read more – What is digital PR?
We help travel brands understand their competition